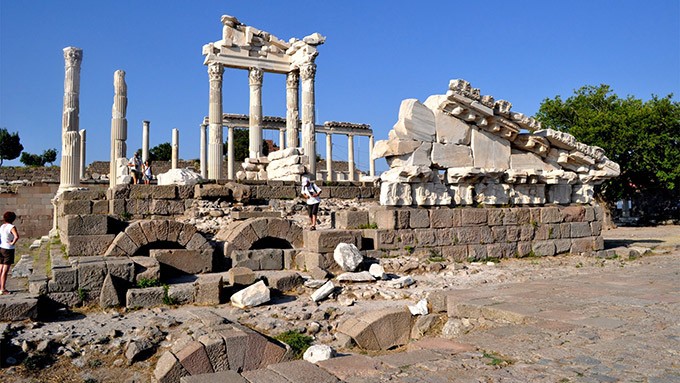 Pergamon is an ancient Greek city located close to River Caicus, 26 km's from Aegean Sea, 85 km from Izmir. This city became the capitol of Kingdom of Pergamon during the Helenistic period. In BC 281 Lycimachus, who was the successor of Alexander the Great, defeated by Seleucus of Syria, Philataerus captured the site for himself. Eumenes, nephew of Philataerus, declared the independence of Pergamon. Philetaerus and his successors were loyal to Rome Empire and they allied with Rome against Philip V of Macedonia.
Attalids built an impressive city in Pergamon. They built beautiful temples, roads and even a library which can compete the library of Alexander in Egypt. They built Asclepion as a medical school, spa and hospital.
Attalians supported the growth of towns by sending artisans or remitting taxes. They also sent presents to the cultural sites like Delphi, Delos and Athens. They prospered in time by agriculture and silver mines. They even invented parchment, charta pergamena. Pergamenes built several temples for Athena. The prosperity of Pergamon even threatened Rome in time.
Attalus III died in 133 BC and because he didn't have any children. He willed his kingdom to Rome. Rome was hesitant to claim Pergamon. Aristonicus claimed Eumenes II as his father and led a rebellion of poor people against Rome. Aristonicus fought and Pergamon won its freedom but it never became completely free of Rome after death of Attalus III.
Pergamon have a strong influence on Rome because it was completely Hellenistic in culture which Rome was imitating. Later on, Pergamon became the capital of East for the Imperial Cult. Pergamenes worshiped Zeus and Asclepius. Augustus allowed them to build a great temple for Zeus in 29 BC. Today this temple remains can be seen in Pergamon Museum in Berlin.
Hadrian and Trajan contributed Pergamon to renovate the temples in their honor. Pergamon became a prosperous and beautiful place.
Pergamon is also one of the Seven Churches of Revelation. According to Book of Revelation, Pergamon was the place where Satan dwells and where his throne is. Probably the Altar of Zeus is the throne of Satan mentioned there.
Pergamon has a lot of remains today. Upper Acropolis has a Hellenistic Theater, The Sanctuary of Trajan, Sanctuary of Athena, Library (Athenaeum), Royal Palaces, The Heroon (Shrine the kings of Pergamon used to worship), Temple of Dionysos, The Upper Agora, Roman Baths, Diodoru Pasporos Heroon and Arsenals. The Library of Pergamon is the second best library in ancient Greek civilization. It contained over 200,000 books and it is believed that Marc Anthony gave to Cleopatra as a wedding present.
Lower Acropolis has, The Upper Gymnasium, Middle Gymnasium, Lower Gymnasium, Temple of Demeter, Sanctuary of Hera, House of Attalus, Lower Agora and the Gate of Eumenes.
Also at the foot of the acropolis there is Asclepion or sanctuary of Asclepius, the god of healing. To go to asclepion there is a 820 meters long colonnaded sacred way. Asclepium was a spa and medical center where the patients could bath in the sacred water and healed by music and water. The doctors used to analyze the dreams of patients because it was believed that Asclepius will appear in their dreams and heal them.  There is a Roman Theater, The North Stoa, The South Stoa, the Temple of Asclepius, a circular treatment center, a healing spring, an underground passageway, a library, the Via Tecta (the sacred way) and a Propylon.
Serapis Temple is the temple of Egyptian God Isıs or Serapis. Today it is known as Red Basilica, turned into a Christian church in 1st century AD. Red Basilica or Church of Pergamon was the one of the seven churches addressed in the Book of Revelations.